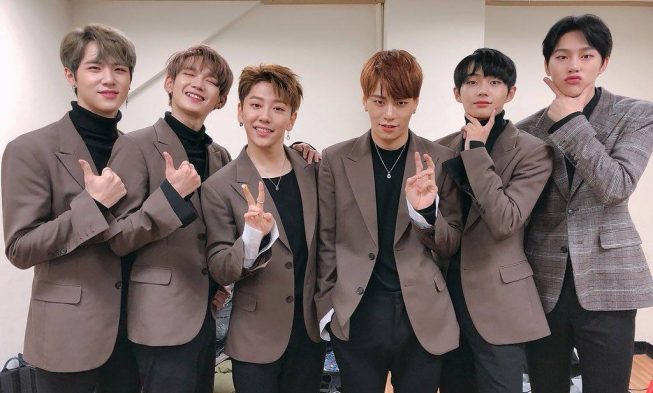 JBJ Members Profile, Age, Height and Birth Date UPDATED!
JBJ Members Profile – JBJ (제이 비제이 or Jeongmal Baramjikhan JoHap or Just Be Joyfull) is a new project group whose members are all former Produce 101 Season 2 participants. JBJ has 6 members, including: Noh Tae Hyun, Takada Kenta, Kim Sang Kyun, Kim Yong Guk , Kwon Hyun Bin and Kim Dong Han.
Actually JBJ will debut with 7 members with the addition of Kim Tae Dong. But for some reason, Kim Tae Dong didn't make his debut with JBJ. JBJ, will be promoting for only 7 months.
JBJ officially debuted on October 18, 2017 by releasing the first mini album titled 'Fantasy'. The mini album contained a total of 6 songs with the lead single "Fantasy" which was used as JBJ's debut song.
JBJ made its first comeback by releasing a second mini album titled 'True Colors'. Her mini album was released on January 17, 2018 with the lead single "My Flower".
Group Name: JBJ (Just Be Joyfull)
Label: FAVE Entertainment
Number of Members: 6 (4 Korean, 1 Japanese, 1 Chinese)
Debut: October 18, 2017
Debut Song: Fantasy
Fanclub: JOYFUL
Color: Cornflower Blue (Pantone 2725 C) and Dolly Yellow (Yellow 0131 C)
Link:
#1. Noh Tae Hyun
Real Name: Noh Taehyun (노태현)
Stage Name: Taehyun (태현) (Kid Monster)
Nickname: KIMON (키몬)
Date of Birth: October 15, 1993
Place of Birth: Seoul, South Korea
Position: Leader, Main Dancer, Lead Vocal, Rap
Height: 168 cm
Weight: 59 kg
Blood Type: A
Zodiac: Libra
Agency: Star Crew Entertainment
Group: HOTSHOT
Instagram: @roh_taehyun
Taehyun's Facts
Taehyun was born in Seoul
He has an older sister
Education: Korea Art High School
Taehyun debuted with HOTSHOt in 2014
He once joined a Hip Hop group called "Monster Woo Fam"
Appears in the MV Rude Paper "fight Like the Lion"
He is usually called by the name KIMON (Kid Monster)
Favorite food: Chicken
Hobbies: Watching movies (he said he tried watching films in different languages ​​without using subtitles)
He once underwent training at YG Entertainment
Taehyun can speak English, Japanese and Mandarin
The happiest moment of his life when he first debuted
He and Sungwoon joined the TV program Produce 101 Season 2
Overall he was ranked 25 with a total vote of 143,523
In Produce 101, he was on the 2PM – 10 out of 10 team, Ed Sheeran – Shape of You and It's Show Time
In July 2017, he officially used his real name as his stage name and he no longer used the stage name "Kid Monster"
She is friends with Hyeran (Brave Girls) because both of them were school friends
He likes watching culinary programs
He is good at Krumping Dance
Taehyun said he was uncomfortable in the dorm because Sanggyun was always bare-chested
Taehyun shared a room with Donghwan
Taehyun and Sanggyun are allergic to cats. At first they did not know they were allergic to cats until they finally met the Yongguk cat
#2. Takada Kenta
Real Name: Takada Kenta (타카다 켄타)
Korean Name: Go Geon Tae (고 건태)
Date of Birth: January 10, 1995
Place of Birth: Fujioka, Japan
Position: Main Vocal, Lead Dancer
Height: 173 cm
Weight: 56 kg
Blood Type: B
Zodiac: Capricorn
Agency: Star Road Entertainment
Instagram: @rkm0855
Takada Kenta's Facts
Takada Kenta is from Fujioka, Gunma Prefecture, Japan
Education: Gunma Fujioka Kita High School
He underwent training for 1 year and 6 months while participating in Produce 101
He has a star-shaped tattoo on his ankle
Hobbies: Reading books, listening to music
He is a former participant in Produce 101 Season 2
In PD101 S2, ranked 24th
Takada Kenta was the only participant from Japan who participated in Produce 101 Season 2
He was on the Infinite team – Be Mine, BTS Spring Day and Knock / (노크) – Open Up (열어 줘)
When in PD101, Kenta was on the "Open Up" team. The team or group was ranked first and successfully appeared on Mcountdown even though at that time he was eliminated
Nobody has ever filled in the soundtrack for the drama The Guardian titled "Wanna be with you" and the drama Lovers in Bloom with the title "Let's Love"
He is a Teen Top fanboy and his favorite member is Ricky
He had attended the Beast (now Highlight) concert which was in concert in Japan
She was called "Sexy Cutie Kenta"
Kenta cat lover
He can know the choreography of the kpop girl group
Kenta shares a room with Sanggyun
When Despacito's song is played, he will dance wherever and whenever
Kenta said that Sanggyun was the person who taught her the most about life in Korea
#3. Kim Sang Gyun
Real Name: Kim Sang Gyun (김상균)
Stage Name: A-TOM (아톰) / Sang Gyun (상균)
Date of Birth: May 23, 1995
Place of Birth: Gwangju, South Korea
Position: Main Rapper
Height: 178 cm
Weight: 65 kg
Blood Type: O
Zodiac: Gemini
Group: Topp Dogg
Agency: Hunus Entertainment
Instagram: @8eomatom
Sang Gyun's Facts
Kim Sang Gyun was born in Gwangju, South Korea
Family: Father, mother, younger brother
He is a member of the boy group Topp Dogg who debuted in 2013
He is the seventh member of the revealed Topp Dogg
He is a former Big Hit Entertainment trainee, he almost debuted with RM (rap Monster) but the plan changed
Nickname: Broccoli (The Beat era), Tommy
Hobbies: Listening to music, playing soccer
Language: Korean and English (fluent)
He was an EvoL backdancer
If you don't become a singer, he wants to be in the fashion world
He underwent training since the 2nd grade of high school before finally debuting with Topp Dogg
Topp Dogg member said he did not like to wake up in the morning
He once collaborated with Hyomin (T-ARA) when Hyomin promoted the song "Nice Body"
He has participated in Show Me The Money 5 (2016)
In February 2017, he declared a temporary hiatus at Topp Dogg for participating in Produce 101 Season 2
He is the only member of Topp Dogg who participated in Produce 101 Season 2
In Produce 101, he was eliminated in episode 10
Overall, he was ranked 26th with a total vote of 140,890
In Produce 101, he was on the SHINee – Replay team, SMTM – I 'm Not The Person Used To Know and It's – Show Time
Other members said Sanggyun was the member who had the best body in JBJ
He shares a room with Kenta
Sanggyun has collaborated with Kim So Hee (ELRIS) on the song Childlike which was released in December 2017
#4. Kim Yong Guk
Real Name: Jin Longguo (金龙国)
Korean Name: Kim Yong Guk (김용국)
Stage Name: Longguo (용국)
Date of Birth: March 2, 1996
Place of Birth: Jilin Province, China
Position: Main Vocal
Height: 178 cm
Weight: 57 kg
Blood Type: A
Zodiac: Pisces
Agency: Choon Entertainment
Group: LONGGUO & SHIHYUN
Instagram: @catsgoesmeow_
Longguo's Facts
Kim Yong Guk is from China
Family: Father, Mother, Grandfather, Grandma
Language: Mandarin (fluent), Korean, English
Nickname: Kol-woof and Yoang-ta-mong
He moved to Korea when he was 19 years old and auditioned for LOEN Entertainment
Hobbies: Playing games, sleeping and watching movies
Favorite color: Green, but mostly wears black
Role Model: Crush
He underwent training for 1 year and 6 months while attending Produce 101
He gained popularity after attending Produce 101 Season 2
Overall, he is ranked 21 with 184,303 votes
In Produce 101, Longguo was once a member of the BTS team – Boy In Luv, Jung Seung Hwan – If It Was You and Knock / (노크) – Open Up (열어 줘)
He likes to play games, especially Overwatch
He likes caring for cats and he considers it a hobby. He has a cat named Tolbi and Rcy
Before debuting with JBJ, he first debuted as a duo with Sihyun with the song "The.the.the" on July 31 2017
Longguo doesn't like bugs and ghosts
His most valuable item is his cellphone
Longguo shared a room with Hyunbin
#5. Kwon Hyun Bin
Real Name: Kwon Hyun Bin (권현빈)
Stage Name: Hyun Bin (현빈)
Date of Birth: March 4, 1997
Place of Birth: South Korea
Position: Lead Rapper
Height: 187 cm
Weight: 66 kg
Blood Type: B
Zodiac: Pisces
Agency: YGK +
Instagram: @komurola
Hyun Bin's Facts
Hyunbin was originally known as a model
Education: Apgujung High School, Seokyeong University
Languages: Korean, Japanese (fluent) and English
Hobbies: Reading and uploading images or images to social media
Expertise: Acting and making rap lyrics
Role Model: G-Dragon and Cha Seung Won
He is left-handed
He is the highest member in JBJ
He is a former participant in Produce 101 Season 2
He underwent training for 3 months before Produce 101 began
He was eliminated in episode 10
Overall he was ranked 22nd with a total vote of 160,693
Saati in Produce 101, she was on the Super Junior team – Sorry Sorry, I.O.I – Downpour and 월하 소년 – I Know You Know
Kwon Hyun Bin had lived in Japan and joined a basketball team named Code One
When he was in high school, Kwon Hyun Bin was a fencing athlete in his school and had competed abroad
Hyunbin shared a room with Logguo
Hyunbin started playing dramas titled "Borg Mom" ​​and "Part-Time Idol" (2017)
Hyunbin was once awarded an Instagram Korea Awards for the "2017 Most Grown Award" category
#6. Kim Dong Han
Real Name: Kim Dong Han (김동한)
Stage Name: Dong Han (동한)
Date of Birth: July 3, 1998
Place of Birth: Daegu, South Korea
Position: Meaning, Lead Vocal, Lead Dancer
Height: 181 cm
Weight: 67 kg
Blood Type: O
Zodiac: Cancer
Agency: OUI Entertainmen
Instagram: @don9_han
Dong Han's Facts
He began to be known since following Produce 101 Season 2
Overall, Kim Dong Han was ranked 29th with 120,594 votes
In Produce 101, Kim Dong Han was on the EXO team – Call Me Baby, Ed Sheeran – Shape of You and 월하 소년 – I Know You Know
He underwent training for 1 year and 6 months while participating in Produce 101
He joined a coverdance group called "The Face" before finally joining the dance group "D.O.B"
Expertise: Aikido and cover dance
Hobbies: Acting watching movies and dramas
Role Model: Jungkook BTS
Best friend: Takada Kenta
He is the second highest member in JBJ
At first glance he is similar to Yugyeom GOT7
He likes to touch the back of JBJ members
He is a BTS fan
Donghan is friends with Jibeom Golden Child
Donghan doesn't like beans
He often watches variety shows
Donghan doesn't like to be disturbed while eating
He admires Eun Seo Cosmic Girls
Donghan shares a room with Taehyun