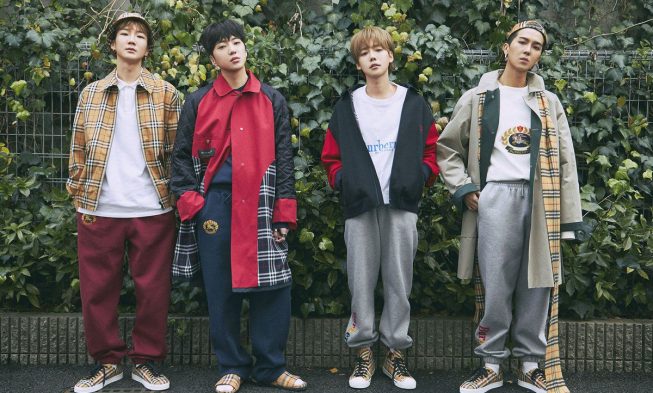 WINNER Members Profile & Photos (UPDATED!)
WINNER Members Profile – WINNER is a South Korean male / boy band group founded by YG Entertainment in 2014. The group was originally composed of 5 members, namely Yoon, Mino, Hoony, Jinu and Tae Hyun.
However, Tae Hyun decided to leave WINNER on November 26, 2016. WINNER made their first debut on August 12, 2014, through the album '2014 S / S' with the singles "Empty" and "Color Ring".
And then, they made their stage debut completed on the SBS Inkigayo stage on August 17, 2014. Boyband WINNER inaugurated their fan club name, Inner Circle.
WINNER has an official account that can connect them with their fans. Let's follow them here:
Be curious about info about WINNER members! Let's look at each of their profiles!
#1. Yoon "WINNER"
Real Name: Kang Seung Yoon
Hangul: 강승윤
Stage Name: Yoon
Nick name: –
Place and Date of Birth: Busan, January 21, 1994
Zodiac: Aquarius
Height: 178 cm
Weight: 59 kg
Blood Type: B
Position: Leader, Main Vocalist, Maknae
Special Skills: Playing guitar and billiards
Hobbies: composing music, writing lyrics, swimming, playing guitar, drawing
Start Training: 2011
Instagram: @ w_n_r00
Twitter: @official_yoon_
Yoon's Facts
Seungyoon was born in Busan
Education: Busan High School
In 2010, Seungyoon joined the Superstar K2 talent search event and made it into the top 4
Seungyoon joined YG on January 12, 2011
He once released the single "You are Heaven" for the drama soundtrack for Midas
Kang Seung Yoon's single "It Rains" won 1st place after it was released and on the song "Instinctively" he won all kill and also entered 100 songs of the year
In 2010, he was awarded the Cyworld Digital Music Rookie of the Year award
Kang Seung Yoon since childhood lived with his mother because his father and mother divorced and just left it
Expertise: singing, playing guitar, billiards
Close friends: Zico (Block B) and Lee Sung Kyung
He regards Papa YG as his own father
He once said his guitar was like the sixth member WINNER
Kang Seung Yoon debuted as soloist of YG by releasing the single 'Wild and Young' on July 31, 2013
Have an IQ of more than 140
He befriended Park Boram, the two met at Superstar K2
He is a friend of Ulzzang, Gwak Min Jun and Eunji Apink
He was chosen to be the leader after Mino was injured in Episode 7 WIN
Seungyoon received many awards for the "We Broke Up" appearance
#2. Jinu "WINNER"
Real Name: Kim Jin Woo
Hangul: 김진우
Stage Name: Jinu, Jin Woo
Nickname: Fake Maknae, Imja Prince, Bambi
Place of Birth Date: Imja-do, September 26, 1991
Zodiac: Libra
Height: 177 cm
Weight: 54 kg
Blood type: A
Position: Vocalist, Visual
Special Skill: swimming
Hobbies: swimming, playing games
Duration of Training: 5 years
Intagram: @xxjjjwww
Twitter: @official_jinu_
Jinu's Facts
Jinwoo was born on the island of Imja
Family: parents, brothers and sisters
His father was a captain on a fishing boat
Ideal type: a girl about 163 cm tall or shorter than him
Jinwoo had a trainee at YG for 3 years
He lived in Seoul alone since he was 18 years old
He is one of the oldest trainees at YG and also the oldest member of WINNER
Jinwoo has puupy eyes
Hobbies: swimming, watching drama
Seungri is a valuable person for Jinwoo for helping him until now
Before a trainee at YG, he underwent a trainer at Plug In Music (Seungri Academy) in Mokpo
When winning and debuting at WINNER, Jinwoo once said: currently the word WINNER is still written on paper with black writing, and our next task is to change the writing in gold ink
When it was announced that Team A won against Team B, Jinwoo cried a nosebleed
He felt sad because in the summer, he did not have the opportunity to visit his family
He wants to travel to Chile. He felt the country looked magical
Jinwoo bears a strong resemblance to Japanese actress Kiritani Mirei
The closest to Seunghoon
Ex-Winner, Nam Taehyun when meeting with Jinwoo for the first time, he thought Jinwoo was the maknae. But in fact he himself is the maknae of the group
He has a chance with actor Kang Dong Ho
He is a friend of Hyemi (FIESTAR)
#3. Hoony "WINNER"
Real Name: Lee Seung Hoon
Hangul: 이승훈
Stage Name: Hoony
Nick name: –
Place of Birth: Busan, January 11, 1992
Zodiac: Capricorn
Height: 182 cm
Weight: 60 kg
Blood type: A
Position: Main Dancer, Lead Rapper, Vocalist
Special Skills: Japanese, freestyle dance
Hobbies: Writing lyrics, culinary tours
Start Training: 2012
Instagram: @maetamong
Twitter: @official_hoony_
Hoony's Facts
Seunghoon was born in Busan
Family: parents, 2 sisters
His hobbies are writing or composing songs
In 2012, Seunghoon joined the Kpop Star talent search event and made it into the top 4
One of his dreams was to join YG Entertainment, and now it has come true
Have a baby lion call
He has been serving as a trainee at YG since 2012
Favorite Fruit: Watermelon
He, Mino and Jinwoo like to watch dramas
Seunghoon and Mino were nicknamed dumb and dumber, and now coupled with Jinwoo who has the nickname Dumbest
Seunghoon has a Chihuahua dog named "Lee Hee"
According to his colleagues, he is a person who always makes a warm and pleasant atmosphere
He is loved by YG CEO Yang Hyun Suk for having great musical talent for singing and also making or composing songs
He likes cooking
He is the longest member to reply to messages from other members
He has similarities with H.O (MADTOWN)
Seunghoon has a tattoo on his back that says W and is circled around him (representing Winner and Inner Circle)
Seunghoon has a new dog he calls "Otto"
He appeared in Song Min Ho's video clip "I'm Him" ​​and 15 & "Somebody"
#4. Mino "WINNER"
Real Name: Song Min Ho
Hangul: 송민호
Stage Name: Mino
Nicknames: Hugeboy, Candy ssaem, Song Mojiri, SWAG ("Secret Training Variety Show")
Place of Birth: Yongin, March 30, 1993
Zodiac: Aries
Height: 180 cm
Weight: 57 kg
Blood type: A
Position: Main Rapper, Vocalist, Face of the Group
Special Skills: Rap, tennis
Hobbies: Watching movies, composing music, writing lyrics, drawing, playing basketball
Duration of Training: –
Instagram: @realllllmino
Twitter: @official_mino_
Mino's Facts
Mino was born in Yongin, Gyeonggi
Family: parents, younger sisters
Education: Hanlim Arts High School
He was known as Tagoon (타건)
Mino has a younger brother named Danah who is a former Newband girl group from F.O who has disbanded
He used to be a trainee at Brand New Stardom and was predicted to become a member of Block B. But because his father objected, he was forced to leave the group
Previously he had debuted with BoM under the Y2Y Content Company label but broke up in 2013 and after that he was a trainee at YG
2012 appeared on K-POP – The Ultimate Audition as Park Ki Beom
Shown in the MV Taeyang "Ringa Linga" and Epik High "Born Hater"
In 201, Mino participated in Show Me The Money 4 which aired on Mnet
Ideal type: a girl who is funny and has a sense of humor
Favorite rapper: Drake, Kendrick Lamar, Lil Uzi Vert
He is very close to Block B members, especially Zico, Park Kyung and P.O
One of his goals and dreams was to debut in Block B along with his best friend P.O
On one occasion, Tablo said that seeing Mino was like a reminder of similarities to G-Dragon and Taeyang
He loved hip hop music since 4th grade
He is part of the Royal Class undergrad rapper, along with Taewoon (ex-SPEED) and SIMS (M.I.B)
Actually he has an allergy to dogs
When he was at B.o.M he said that his ideal type was Sulli (ex-f (x))
Join in a project group called Lucky Boys together with Nickhun (2PM), L (INFINITE), Baro (B1A4), Yonghwa (CNBLUE)
#5. Tae Hyun (Former Member)
Real Name: Nam Tae Hyun
Hangul: 남태현
Stage Name: Tae Hyun
Nick name: –
Place of Birth: Hanam, May 10, 1994
Zodiac: Taurus
Height: 179 cm
Weight: 65 kg
Blood type: A
Position: Main Vocalist, Maknae
Special Skill: Japanese
Hobbies: Composing music and writing lyrics
Start Training: 2011
Instagram: @souththth
Tae Hyun's Facts
Taehyun has a hobby of writing lyrics and composing songs
He is also talented in boxing
She plays on the web drama "Midnight's Girl"
He had wanted to get out of YG because of a lot of pressure
Taehyun has a younger brother named Nam Dohyun and his sister wants to be an idol but still fails until now
Now he is joined in a band called "South Club"
After knowing the profile of each WINNER member, it can be concluded that WINNER members are truly able to attract the attention of the public with their respective attractiveness.
And also each member has the ability, quality and popularity of each.