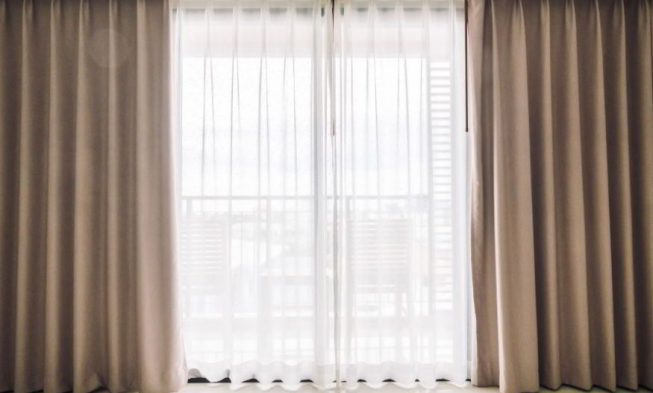 5 Different Types of Curtains to Spruce Up Your Window
Looking for the right curtain for your home sometimes can be a daunting task because each of them has special characteristics and gives different look in a room. Not only because there are so many different types of curtains available in the market, but also which one suits the best with your budget and needs.
In order to experience hassle-free curtain buying, it is important to know more depth about a wide variety of curtains.
Based on the style, lengths, and fabrics, we can categorize curtains into several types. Those can be used as your considerations to get ones for your home and hang them on the windows confidently.
5 Different Types of Curtains
The Formal Appearance from a Pinch Pleated Curtains
Pinch pleated serves as the best option especially if you want to achieve formal or traditional look.
The pleats in pinch style are stitched and squeezed at the top make the fabrics drop down and offering elegantly formal appearance. The more pleats it has, the fuller look of the window.
The Full Coverage Offered by a Box Pleat than Other Different Types of Curtains
Box pleat curtains are frequently used in several rooms at house such as dining rooms and bedrooms.
The folds fall deeply and continuously through the whole length of the fabrics so that it offers maximum coverage with a personalized look. This curtain is perfect if for extra privacy at home.
Sheer Curtains to Set Up the Light Entrance
While some types of curtains make the room darker, sheer curtains allow natural light to enter while still give enough privacy that a homeowner needs.
It provides connection with outdoor world but covers the view inside from strangers. This curtain is often used with thicker curtains or layered window treatments.
The Simplicity of Pleated Blinds
Among different types of curtains, pleated blinds come out to be the best choice if you're looking for the simple one.
Attached to the window frame, it features a handle or cord to open or close the blinds. It comes in transparent and semi-transparent versions to manage the light intensity.
The Classical Touch Offered by Roman Blinds
Coming with supporting rods, roman blinds appear flatter than other types of shades and can be folded much neatly.
It can be used on small as well as big windows. The simple and beautiful design of roman blinds gives a little bit of classical touch, particularly in a minimalist room.
Curtains play an important role not only to inside your home from a strange gaze but also as a decorative piece in any space.
To get an optimal function of curtains, make sure to choose the ones that are made from durable materials along with the style that suits perfectly the rest of the home.
Different types of curtains available in the market enable you to select based on your needs and personal preference.
In order to know the best type of curtain to treat your window, you should deliberate how each of the works and what features they bring to support your window's needs.
As you get the perfect one, you can receive the optimal function of it for both protection and decoration.