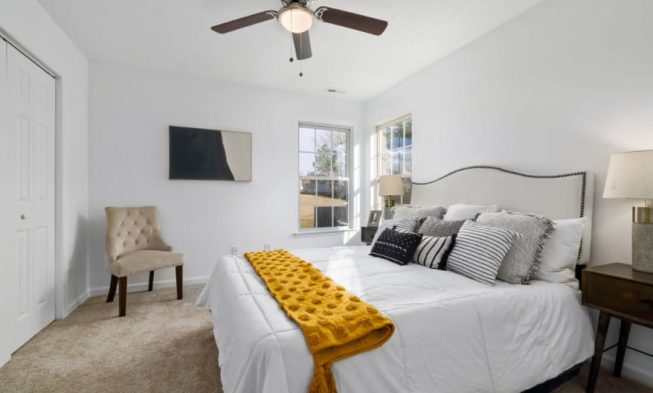 Best Quiet Ceiling Fans to Keep You Cool at Night
During hot summer days and warm climates, ceiling fans can provide a true refreshment and a cold breeze of air. Generally, they reduce humidity levels and keep the airflow circulating creating a sort of vacuum, an air pocket, which cools down room temperatures for at least several degrees.
Now, the advantage of ceiling fans, despite making hot days more tolerable, is their price, affordability, and long-lasting duration.
However, there might be one small downside because of which people often feel discouraged to buy one. If you haven't guessed already, it is the noise.
Yes, the noise becomes quite irritating over some time, especially during the night, the noise problem becomes even more distracting and unbearable.
Thankfully, the newer generation ceiling fans come with some revolutionized technology, making them quiet and bearable.
The Vintage and Sophisticated Hunter Indoor Fan 
Now, this fan has become a trademark during the 60s and '70s, and almost every living room or bedroom had one. It became quite popular in the last several years as vintage and retro took over the market once again. 
The Hunter Indoor ceiling fan has the classical wooden three-blade look, making it elegant, sophisticated, and perfect for an interior decorated in a French provincial or retro 60s style.
It also looks beautiful in the living room, with some stylish wooden furniture or oak tree cabinets. However, the Hunter Indoor fan is not only great looking, but it also comes with some excellent features.
The three-blade setup allows it to operate without making almost any noise, and the blades are proven to be quite durable and easy to maintain as well.
One recent development is the coating of the blades, a new technology reducing the amount of dust to stick to the surface. And the only downside might be the turn on/off option, as you have to pull the chain manually.
The Futuristic Looking Luray Eco Ceiling Fan 
The sleek and beautiful design of this fan makes it perfect for a more suburban and modern design living room. It gives quite the impression, looking elegant and expensive while being affordable and within almost everyone's budget range.
The Luray Eco ceiling fan comes with some upgrades as well. When it comes to material, it is easy to maintain and quite durable, made from some first-class eco-friendly materials.
The engine, as the name suggests, is economical and makes almost no noise at all, therefore this fan goes under the category of ceiling fans that are not loud, and therefore is a favorite among buyers and consumers.
Yet don't be fooled, though the engine is not making any noises, it has enough power to keep the air circulating and the room cool.
You'll not only have a fresh breeze now and then, but you'll also have stylish and more than elegant ceiling fans, decorating the whole room. Most fans also come with an integrated LED light, making them more than useful. 
The DC Motor Monte Carlo 
Now, DC motors for those who have never heard of the term, are motors that directly convert electrical current energy into mechanical energy.
This makes DC motors quite powerful and easy to operate, and also a favorite engine for ceiling fans. The Monte Carlo is a DC motor operating fan, and it comes with more blades than the previous two combined.
The blades are a bit pitched for more balance and stability and a more even distribution of cool air.
Another advantage is the remote operating option, and the only downside of this bad boy might be its low resistance to humid and other outdoor factors. Other than that, it does the job, and produces almost zero noise, even though it has a powerful engine. 
Casablanca
No, not the movie from 1942, rather the ceiling fan-the Casablanca Stealth Ceiling Fan. The design and the overall looks of this fan are remarkable, making every room more stylish and retro-looking.
Similar to the first one on this list, it has wooden propelling blades and excellent performance. When it comes to noise, it almost does not exist and the overall quality of the fan is high-end. The only real difference is the design and looks of the fan. 
When it comes to ceiling fans, the real thing you should always look for is the engine, design, and functionality. Most fans come with some downsides, yet a vast majority is perfect for your day-to-day life.
Make sure to get a good night's sleep, with some fresh air circulating in the bedroom by buying some fans mentioned in the text, and enjoy the experience.