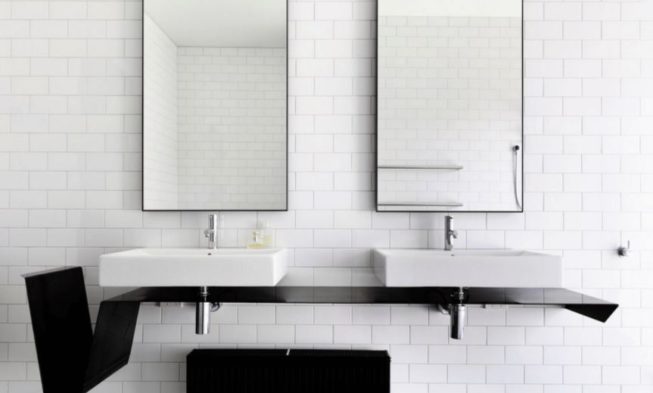 25+ Best Bathroom Mirror Ideas For a Small Bathroom
Bathroom Mirror Ideas – Looking for some bathroom mirror ideas? You might be having a hard time to decide where to start because choosing a bathroom mirror can be very tricky. You will consider a lot of factors before selecting the perfect one for your bathroom.
The factors we are talking about here is the style, size, shape, and material. All of them are important factors to ponder. Besides, you will also need to decide the decorating scheme you are having for the whole bathroom.
Mirrors can be a helpful solution for a small bathroom. So, choose your bathroom mirror wisely. Then, you can gather all of the attention to it.
Here are some bathroom mirror ideas to consider, in order to design a perfect bathroom based on your needs. Also, you need to choose one of these mirror ideas according to your personal style, and you have to keep it within the budget you have.
Large Bathroom Mirror Ideas
This type of large bathroom mirror that covers the whole one side of the wall is really hypnotizing. It's perfect for the small bathroom. As you can see in the picture, the small bathroom would look so much spacious because of the mirror.
The wall mirror creates a fantastic illusion of space in this small bathroom. Also, the reflection of the creative lightings on the ceiling and the typography poster is killing it. Some people would love to have a large size of the mirror because it would be very supportive for them to do the makeup easily.
Pros:
The design of the whole bathroom is stylishly simple. So, it's perfect to get a reflection for it to get a double-bathroom illusion.
Cons:
I guess, when you look that poster long enough, you might feel a little bit dizzy. I guess you need to choose the artwork wisely. Everything in this bathroom should be ready for a reflection.
Unique Bathroom Mirror with An Unconventional Shape
Why choosing the unconventional shape? Because it's effective to make a statement in any style of bathroom. It'll make a statement too for any size of the bathroom. The intricate design of this bathroom is strengthened by the architectural design of the mirror.
There's not only one mirror in this bathroom. As you can see, there are five other mirrors in smaller sizes. They're there to add a statement piece into the bathroom. You don't have to add any more accessories to accentuate the bathroom. It'll clutter the bathroom all over.
Pros:
The addition of smaller mirrors to accompany the main mirror is a great idea. So, it didn't leave the rest of the wall empty. It's simple but clever.
Cons:
In a large bathroom, there shouldn't be a lot of mirrors. It's a little bit too much.
Double Bathroom Mirror Ideas to Double Your Vision
If one is just not enough, why not have two? You could get a look that's twice as nice. Commonly, the double mirror concept is applied with double sinks too. But, since this style is flexible, you could only have a single-sink vanity with longer size.
In the photo, it's just like two vanities that are connected into one. The mirrors are supported by those three antique light fixtures that will give you the lighting whenever you need. Furthermore, the mirror design is well-combined with the color of this bathroom.
Pros:
The designer has tried to keep the classic look of this bathroom by adding two mirrors instead of having one large mirror.
Cons:
Some people might find the design of the sink and backsplash looks so old and it doesn't have a good connection with the mirror and vanity structure. Also, those wooden drawers on the background bother me a lot.
Monochrome Bathroom Design with Glossy Black Mirror
Surely, that black mirror is the highlight of this bathroom. This monochrome bathroom design is a success for the designer.
He's succeeded to deliver the perfect monochrome concept for a bathroom. In fact, the black floor tiling is a little bit uncommon for a bathroom but the existence of the flooring serves as an anchor.
You don't need to add another color to balance the white and black combination. In this case, basic color is enough to amaze the guests.
It's not just the mirror frame which is painted in glossy black, that rattan chair too. It has a similar scale to the mirror that help balance the room atmosphere.
Pros:
The whole wall is painted in white. This is a good treatment for the monochrome concept. The wall should be in lighter color.
Cons:
The problem in this bathroom mirror ideas is the mirror itself. The mirror size is a too over. It ruins the overall success of the bathroom design. As you can see, it's actually bigger than the vanity. You can fix it by enlarging the vanity size.
A Twin Bathroom Mirror Design
It's similar to a double bathroom mirror concept. Twin bathroom mirrors may provide a better sight for the bathroom. People choose to have two bathroom mirror because they think a single mirror is not enough.
Actually, they can choose to apply one large mirror but it might be making the bathroom style to be too contemporary. So, I suggest you, if you love contemporary design, this twin mirror is not a good concept for your bathroom.
Take a look at the mirror design, it's got a beveled frame edge that offers a clever design detail for the appearance. It won't need another texture to be introduced. That soft blue paint on the wall really soothing to the eye. I bet you will enjoy spending time in front of this vanity.
Pros:
I'm pretty sure, the highlight of this bathroom design is that beveled frame of the mirror. It really steals everyone's attention from the very beginning.
Cons:
The position of the windows is higher than expected. I guess, it can be a disturbance because of the light being too bright.
Conclusion
Those are bathroom mirror ideas that would be perfect if it's installed above your bathroom vanity. If any of those ideas are matched with your bathroom concept, you can just apply it right away.