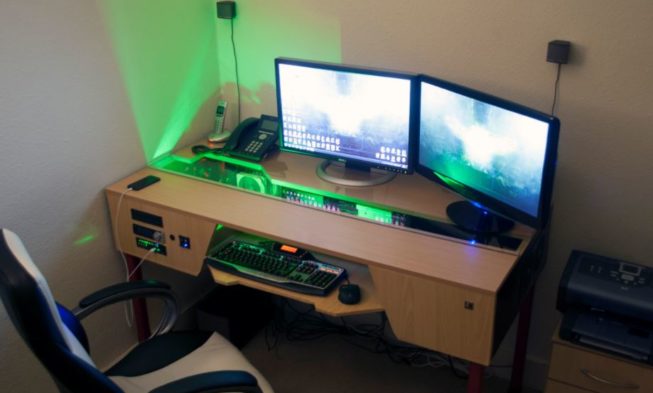 20 Awesome DIY Computer Desk Plans
Making a computer desk which is based on DIY Computer Desk Plans can be pretty challenging. You need to know how important and influential a furniture for your home office. The furniture and the design of the interior of your home office could influence your productivity.
So, I guess in building your own desk by following the tutorial of DIY plans, you need to follow it carefully. A desk is very crucial for your office space, especially the one at home. There are a lot of customized desk built you can purchase from the store but it's not budget friendly.
Well, there is some DIY computer desk plans you can follow in order to make one for your home office. The plans come with many styles and concept. You need to decide the design based on the style you have in your space. The design of the computer desk should be comfortable and functional.
You can create the desk to be used for a corner desk, closet desk, or any size of a desk that fits into your home office. The best thing about this DIY Computer Desk Plans is that you can make it yourself, the result will be original and of course, it's budget-friendly.
Here is some Inspiring DIY Computer Desk Plans you can have for your weekend DIY project to build one for your home office:
1. Parson Tower Computer Desk Plan
Check out this free desk plan that is designed by Ana White. It features a big space of the worktop and there's a lot of space for storage too. It's easy to build, it doesn't require so many items to build this simple DIY computer desk.
The feeling of minimalist is showed by this desk. As you can see, this interior design of this room is in rustic style.
That rustic bricked wall seems to be the highlight of this room. Sometimes the atmosphere of this room seems to be unsupportive to your work, so you need to have something more supportive than the interior, well having this Parson Tower desk is just perfect.
Take a look at this cherry tower desk for your computer. The concept of this tower is just the same as the parson tower. The difference is on the left side of the desk's leg. The storage shelf on the left is smaller than the right one.
I guess the designer create it to be smaller in order to provide more space under the desktop for the human leg. The worktop looks clean and wide. You can add some item to decorate your desk. If you can't manage the messiness, you can just leave it empty and clean.
2. DIY Computer Desk With Concrete Desktop
This is actually a computer desk from Home Depot, you can purchase this desk there, or you can actually build it on your own. You just have to provide the concrete top and wooden legs. The size is pretty small, so I guess it will fit just about anywhere you want to.
You can just attach it to the white wall just like the picture. Complete the desk with small still to get it ready to be used for your work. This small desk has a minimalist design that looks so simple and well-designed. With that table lamps and other accessories on the desktop, it offers a good mood.
This multifunctional DIY Computer Desk is not only used for your work with a computer. Switch the chair with the most comfortable one. Finishing a job has never been so exciting. Because the size of the desktop is not really wide, avoid putting a lot of stuff on the desk.
If you do not need that table lamp to support your work, you may want to remove it from that desk. Instead of a table lamp, you can place the table right in front of the windows or just below a light fixture. That small rug below the table is on that floor to make a statement.
3. Office Corner DIY Computer Desk Plans
Another DIY Computer Desk by Ana White that you can actually build on your own. As we know, corners have always been used for a computer desk. You have to take control of the corner spot in your office. This easy way of having a desk with wider top will give you more space to do the workflow.
You can build this office corner computer desk from two base units. You can convert them into a full corner desktop system. It features a back support leg to get the desk strong and steady. This best desk pops the office, making it a great furniture to improve your mood of working.
If you are more interested in something more natural, you can have this neutral corner computer desk. This white computer desk has a similar design to the previous one. This desk design is suitable for you who works with a lot of documents, files, and paper.
You may need more storages to keep your files in the right arrangement. If you use the computer a lot in your work, this will feel comfortable for. The support from the comfy chair is also a key to keep a good productivity on your job.
4. Piping and Butcher Block DIY Computer Desk Plans
It's such a beautiful DIY Computer Desk you can rely on from your office. Uniquely, it uses a butcher block for the desktop. So, I guess the desktop will be very sturdy, of course, it's a surface you can find on the butcher for cutting off meat.
For the legs, it has industrial piping structure. Piping legs and butcher block top, that's why you called a piping and butcher block desk. It's very functional to be used for another purpose as an ordinary table. Even, this simple table can also be used as your dining table.
Besides of its minimalist look, this pipe computer desk looks so fine on your corner area. This thin computer desk wouldn't take a lot of space. You can fill up any boxes or other stuff under the table, there's a lot of rooms to fill up.
The pipes that are used as legs are of steel or metal material, so it can handle the weight that the butcher top has.
Check out those two monitors, it's very suitable for the desk. It seems to be ready to handle your work, design graphic passion, or gaming addiction. There are still a lot of empty space you can use to put your stuff on top of the desk. So, make use of all of the function available in this desk.
5. DIY Computer Desk Plans With Sawhorse Legs
Well, this is something you can choose to be your office's focal point. The interesting leg looks so obvious and it's so catchy to the eye. Even though the color is black and it's placed on top of a black rug, it's still shining between those neutral colors.
As a project, this one is quite more elaborate but still doable. You need some planning and detailed construction. Make sure you are building a solid, stylish, and stable computer desk that you can use all the time for your work. Well, it's not the easiest DIY desk to make, and it's not difficult too.
The sawhorse legs are the things that catch everyone's attention. You can make the legs using three pieces of pine which are glued together for each and any of the leg. You need to make two of the legs a hollow center. It's made to set the power cords and internet cable.
It's kinda clever solution for your electrical devices. Make sure you choose the right material for the legs, the sturdy and stable wood for the legs and strong and smooth wood for the top. The final size of the top is 28 x 62 inches. You could build a bigger desk according to your needs.
It's quite a unique style of legs. You don't see this kind of legs of the desk in a lot of offices. If you are brave enough to give unique looks to your formal office, there's nothing wrong to give it a try.
6. Mini Laptop DIY Desk Plans
For laptop users, you can choose to have a mini laptop desk instead of a computer desk. There are regular laptops and mini laptops, all of them works well with this mini laptop DIY desk design. This space-saving furniture looks so minimalist.
It's like you can put it almost anywhere you want, in a bedroom, living room, etc. In fact, you can make the table as portable as possible. After that, you can just move it around and attach it to the wall anywhere you want.
Even more simple, you can have this mini DIY desk for your working desk. This is perfect for small rooms. If you want to save more space other furniture and office space is not really that important, well this one might do the work for you.
Even though it only has a small space for your work, but that is all you need, right? This is only for you who loves simplicity and portability to your work. The clean design of this small desk would give you a good mood to take.
7. Birch and Aluminum Desk
This unique desk is specially designed to meet some specific needs. For instance, The size of the top is large enough to spread out an open textbook, writing notes, and a laptop. The durable structure without nooks and crannies are perfect for your working spot.
The modern, clean lines on the desktop give such a nice look to the whole desk. You can fill up the front wall with shelves where you can store some items and books related to your work. Some hooks under the shelf to hang your accessories, that would become a decorative accent to the wall too.
This is another kind of metal desk you can have as your office table. It's larger than the regular office desk but if you have more space for it, that would be great. A large desk means a larges desktop space and larger storages to fill in.
You can leave the natural metal lines just like that to give a rustic accent to the design. You can also paint it with matching colors like the surrounding area. For me, I would recommend to leave it just like that in a metal color. I mean, just show the metal looks, let it shine.
8. Mid-Century Modern Desk
If you decide to remodel your room, you can update the looks just by making use of your one dresser to mount a desktop onto. This will bring the mid-century modern vibe into the room. It will suddenly become a great spot for office space. You can enjoy this awesome vibe in your work.
In order to build this, you will need some simple table legs that have the same height with the dresser, or you could make those legs on your own. After you have all the items, you just have to attach them together in a form of a table. There you have it, an absolute original style of desk.
Another mid-century modern computer desk design for your office is this stunning furniture. Check out the clean lines of the thing drawers under the desktop. Those four thin legs look so chic. It's quite dangerous to have such thin legs unless the material of wood is durable and sturdy.
So, you need to find the wood material that is strong enough to manage the weight of the devices and anything on top of the desk. Facing the large glass windows would give you a lot of inspiration that comes from the outside to the inside of your brain.
This can be a good DIY project for you to make. I guess you may need to hire professionals to help you with this eclectic design of computer desk. I guess, if you are not experienced enough to build a computer desk on your own, you may ask for help from people who know stuff like this.